[vc_row type="in_container" full_screen_row_position="middle" scene_position="center" text_color="dark" text_align="left" overlay_strength="0.3″ shape_divider_position="bottom"][vc_column column_padding="no-extra-padding" column_padding_position="all" background_color_opacity="1″ background_hover_color_opacity="1″ column_shadow="none" column_border_radius="none" width="1/1″ tablet_text_alignment="default" phone_text_alignment="default" column_border_width="none" column_border_style="solid"][vc_column_text]
[/vc_column_text][/vc_column][/vc_row][vc_row type="in_container" full_screen_row_position="middle" scene_position="center" text_color="dark" text_align="left" overlay_strength="0.3″ shape_divider_position="bottom"][vc_column column_padding="no-extra-padding" column_padding_position="all" background_color_opacity="1″ background_hover_color_opacity="1″ column_shadow="none" column_border_radius="none" width="1/1″ tablet_text_alignment="default" phone_text_alignment="default" column_border_width="none" column_border_style="solid"][vc_video link="https://www.youtube.com/watch?v=eYix7GuMdDA" align="center"][/vc_column][/vc_row][vc_row type="in_container" full_screen_row_position="middle" scene_position="center" text_color="dark" text_align="left" overlay_strength="0.3″ shape_divider_position="bottom"][vc_column column_padding="no-extra-padding" column_padding_position="all" background_color_opacity="1″ background_hover_color_opacity="1″ column_shadow="none" column_border_radius="none" width="1/1″ tablet_text_alignment="default" phone_text_alignment="default" column_border_width="none" column_border_style="solid"][vc_column_text]
Delta Star Custom Hand-Made Cigar Box Guitars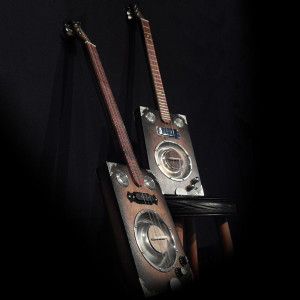 Based on a Delta tradition our custom hand-made cigar box guitars are hand made from the ground up.  Everything from our custom made boxes to our bone nuts and bridges have been hand crafted to bring you the very best cigar box money can buy, all at an affordable price.
We've spent years developing a cigar box guitar that will not only look amazing but will play great as well. After building many different style guitars, and countless hours of perfecting our craft, we eventually landed on what are now our Deluxe & Pro models. This cigar box style guitar is a one-of-a-kind and has been bringing joy to guitar players all over the world since we first started offering them to our consumers.
We offer two different models; the Delta Star Deluxe Series and the Delta Star Pro Series. Both models are built with the same high quality craftsmanship and complete decorative finish. The only major difference between the two models is the Deluxe comes with a single coil pickup and standard volume and tone controls, while the Pro Series sports a all chrome double humbucker pickup with chrome volume and tone controls. Whatever look suits your style, both of these models are built to please and guaranteed to satisfy!
The Delta Star Difference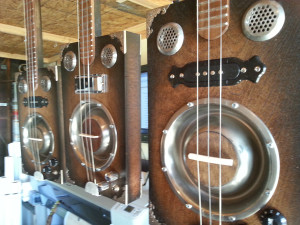 Unlike other cigar box guitars out there made from old cigar boxes, we start each guitar by building our own hand made box which is much stronger and better sounding than a cigar box. From there we hand craft our neck and headstock which is attached to the body of the guitar making it rock solid. We then stain, airbrush, and finish each guitar with a beautiful oil-infused satin finish polyurethane which gives it that one-of-a-kind classic look. Once the body is complete, we start adding all the goodies; 8 Victorian style corners, stainless steel hole covers, our stainless steel resonator, strap pins and more. Finally we install all of the electronics including either a single coil or double humbucker pickup, a volume and tone knob, and input jack. When it's completed what you end up with is a beautiful cigar box guitar with a great look and an even better sound.
[/vc_column_text][/vc_column][/vc_row]